Over the past two years, many of us have suffered losses. Businesses have shut, lives have been lost, and the rhythms that guide our lives have been interrupted. Many of us are now apprehensive about moving forward into a new reality, post COVID. However, there are ways we can face this challenge with a sense of optimism. 
At our final event of 2021, we sat down with Heidi Denning and Graeme Cowan – experts in Team Resilience. Heidi Dening is an award-winning Resilience speaker, author and educator whose mission is to empower organisations and their people to become more resilient. Graeme is the Team Resilience Director at R U OK?, the voice of The Caring CEO Podcast, and a renowned speaker, author, and influencer who specialises in preventing work-related fatigue, stress, and poor innovation. 
We kicked off the event with a poll: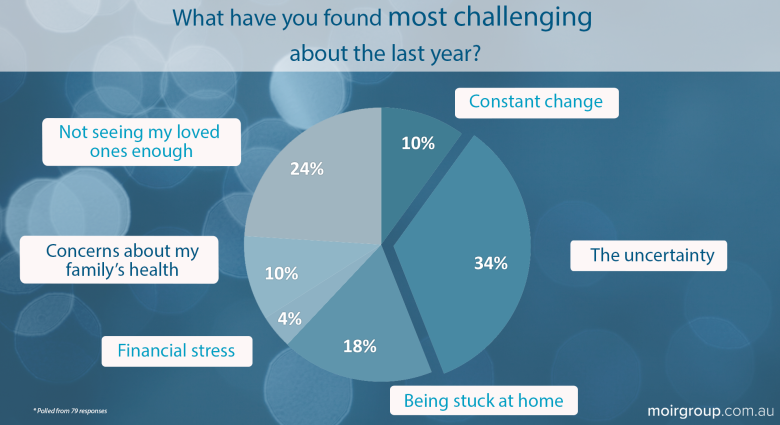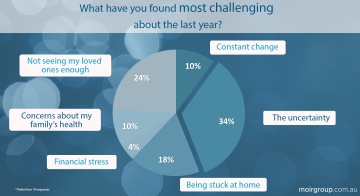 Of the attendees, 34% found that living with uncertainty was most challenging. This result matched Graeme's expectations after asking this same question in over 150 webinars over the last three months. 
Uncertainty has a direct effect on our mental health. If you have had a tough year, you are not alone. 85% of workers have said their wellbeing has declined during the pandemic. PwC brought a survey which showed the number 1 issue that employees care about is mental health – ahead of cost of living. How do we embrace this uncertainty? 
Building Your Resilience by Finding Your 'One Thing'
The movie 'City Slickers' offers a great few words of resilience. When two city boys venture to the wild west to take part in a cattle drive, they meet a cowboy who is the embodiment of resilience. When asked just how he does it, he responds: 
Just one thing. Once you know and find out what your one thing is, that is your primary job. If you do it, everything else takes care of itself.
Graeme's 'One Thing'
Get up at 5:30 every morning

Meditate

Go for a walk/exercise

Plan the day
What is your 'One Thing'? Do you do it enough?
If you don't know your one thing, or you don't do it enough, now is the time to plan. Set aside time to make your plan. Graeme's key tip for making sure you follow through with your plan 300% is to decide precisely WHEN and WHERE you are going to do it. 
Graeme's 5 'One Things'
One video for wellbeing
This video encourages people to think about one or two things that are incredibly important to keeping them centered in the busyness of life. 
One book (or maybe 2) that can help us have a better mindset towards uncertainty
The happiest man in the world by Eddie Jaku – he also has a great TED talk
Man's search for meaning by Viktor Frankl
One free app – Insight Timer – to help you be more mindful and centered
Graeme recommends the 40 day course – Mindfulness Daily – by Tara Brach and Jack Kornfield. They also have an excellent 40 day – Mindfulness Daily at work
One free podcast – The Caring CEO 
Rated 4.9/5.0, listened to in 26 countries, and in Apple's top 10 for Management Category, Graeme conducts interviews with 22 CEO's and senior leaders who champion a culture of care and high performance.
One free poster – How to support a teammate (or loved one) in distress
Heidi's Acronyms: CPR and HOPE
The Importance of CPRing Your Life, Everyday.
Find a way to cut off from the stress, the baggage, the overwhelm, the uncertainty that work life can bring you so you can focus on your home life. What is it in between that you can do to cut it off? A small walk around the block can be good; something that acts as an end of day cut off. Change your clothes, have a shower, light a candle, or put a towel over your work devices. 
Covid sucked the living life out of joy and we need to find a way to put a smile on our faces again. Take your fur baby for a walk. Throw a frisbee with kids. Do another jigsaw puzzle. Get out in the garden. What can you do at the end of every day to play again to bring some lightness to your life? 
What has gone well today? When you get into the habit of scanning your day and extracting that one thing that has gone well, it can completely change your perspective on the toughest days. Plus, it provides your brain with a dopamine boost.
Heidi's Resources: CPR Your Life Re-Cap Video & PDF Downloadable
How can HOPE in the workplace help your team to build resilience together?
Health and wellbeing is vital to the success of any team. Put their physical, mental and social health first. They will be reassured that you are proactively thinking about their wellbeing. 
54% of immediate retention is based on the fact that employees want to have a belief that their companies are going to continue to develop them. Offer your employees opportunities for learning and growth as often as possible. 
P is for Profit and People
People hope that you are making wise decisions, they hope that you are not focusing on the bottom line at the detriment of employee health or growth opportunities. 
E is for Effective Leadership
Your people hope you are being an effective leader in any circumstance. Be calm in the chaos. Be kind even when you are grumpy. Be smart amongst misinformation. Be a visionary and walk them into 2022 with resilience and hope.
Read more in Heidi's Workplace Hope Blog Post
View the Workplace Hope poll from the session
Some highlights from the Q&A session
Performance Pressure & Psychological Safety
When we have low psychological safety and high performance pressure, we are in the anxiety zone. When you have high psychological safety and low performance pressure, you are in a high performance zone. Both those things are important for high performing teams. 
Harvard's Progress Principle
What is the best way to motivate employees and improve performance? Celebrating little wins each day. If you have a culture where people recognise these little wins each day, it is the most motivating thing for the team. 
How to ask R U OK?
Managers are often afraid to ask their employees how they are feeling because they don't know how to respond, or they don't have time. Heidi's advice is to go in with a real spirit of wanting to help and listen carefully. A small but open conversation can make a massive help in someone's recovery. 
For helpful resources, visit RUOK.com or factorc.com.au
How to support your team when you work from home
Be a RAKtivist. Complete one Random Act of Kindness per day. It could be as simple as sending an appreciation email or gift basket to an employee.
Read this helpful book on how to find balance and happiness in your working from home life.
Do your team need a resilience recharge?
If you thought Heidi's practical strategies would benefit you and your team, please have a look at the benefits from her most impactful program this year. It could be a great way to start 2022!
Final Word
Although the pandemic has caused troubles for people across the globe, across industries, and amongst loved ones, it has also tested our resilience. Through these challenges, we have grown stronger in our understanding of what we need as humans to continue to work and to live. Resilience is about being able to extract something you have learned from a challenge, adapt it to whatever the new environment is, and move forward. What have you learned? How will you adapt? How will your 'one thing' help you to be more resilient? 
We would like to thank Heidi and Graeme for their time and wisdom, and we look forward to collaborating with them in the future. If you have any questions, or would like to inquire about their Resilience services for your company (we highly recommend), they are both available via LinkedIn. Finally, we would like to thank our attendees for their questions and participation. Wishing you all a resilient start to 2022.
Moir Group runs many events across the year for early and mid-career professionals. Sign up for our upcoming events here.
Are you looking to move into your next finance role? Contact our team today.